Cuba Diaries Week 1&2: January 26 - Feb 1, 2009
This is a personal account of my semester in Cuba.


ALYSSA CAMPBELL
EspreeNet News Service

---

LUNES
It was the first day of class.. We had a Cuban history and an international relations class. They were interesting because the professors whom are very well educated and high up in their fields, hold perspectives that contradict many of the teachings one would receive in an American University. The professor who intrigued me most was my international relations professor when he gave his reasoning on being a Communist and Socialist. In essence what he believed was that capitalism compromised social justice because of the inequality it creates. He then spoke about his opinion that the importance and need for human rights and justice outweighed efficiency. Both of the professors seem to be great and I am sure I will learn a lot from them. The rest of the day went pretty normal with the exception to my first bad lunch and the 5 hour wait for a computer. I talked to dad that night and it made it a lot better J. Even though I am trying not to complain but to appreciate everything it was definitely a relief to talk to family for a few minutes.

MARTES
I had my Spanish class today. It went well even though they put me in the advanced class and I was a bit nervous. I think the class will be good for me because I will be forced to speak, and I need practice. Later we went to an Intro to Contemporary Cuba seminar. At night we went to the university for "la marcha de las antorchas", a yearly march in honor of Jose Marti and the university. The part that I saw was very lively and the streets were filled with hundreds of people, mainly students. Unfortunately, I could not stay long because I got my first stomach bug. Me and several others are all feeling rather ill, and haven't been able to do much but sleep. I know that this is part of the experience so I have been trying to be optimistic about it because there is nothing I can do until my stomach adjusts to the food. To avoid complaining I have been keeping myself busy reading for class. I hope that in a day or two it will pass because there is so much that I want to see and do. But as I have been learning--- patience is a true virtue here; don't rush anything because you will be disappointed.

SABADO
This week was long but it has gotten much better. I was able to go back to classes on Thursday because my stomach settled somewhat. I am still a little queasy but I haven't been as sick as I was. This is my body's initiation. I spent most of Thursday in class and did a lot of reading. Friday was eventful. I went to an art studio in Habana Vieja to look at the artwork of a famous Afro- Cuban artist named Choco. His paintings have been put in galleries and a show around the world, and it was really cool to meet and talk to him about his work and inspirations. Later that night we went to a Cuban baseball game and it was an experience. I am not much of a baseball fan, but it was cool to sit and enjoy a typical Cuban past time. Later I stepped out of my comfort zone for the hundredth time here it seems, and went to a Rock Music Block Party. It was interesting to see about 300 head banging Cuban teens and college students, behind a big park dancing to Techno. Though I will never go again, I will say it was interesting to see what a mix of people was there and enjoying each others presence. I know that racism does exists here although some say it does not. While saying it is completely non-existent is an overstatement, I will say that its not nearly as noticeable as it is at home. Its actually relieving to just see people being together and being friendly and not really focusing on color or looks. Even with the Cubans that come to meet us group of American students have a genuine interest in all of us, not focusing at all on our race. It may seem small to some, but for me, having grown up around Blacks but having to go to school and work with Whites in most things and seeing the differences in treatment because of my skin, I am truly impressed by the unity here. The group met a man down the street from the residence named Diego who has been friends with a lot of the students on other trips. Word has it that he is very nice, and is a great help to all of the students, and meeting him so far he seems ok. I am still a little weary because it is not often that you meet someone who is genuinely interested in you or your group without an ulterior motive, but so far for the last 4 years he just truly enjoys telling American students about Cuba, and learning about America. Today we went back to Habana Vieja to talk to some strangers for a Spanish assignment and then we went to the "Boguedita" and the "Floridita", two famous restaurants that Ernest Hemingway spent a lot of time drinking at during his time in Habana. We followed it up with the "Mueso de Chocolate"- a museum café of "Cuba's best chocolate". I just ate a piece of Chocolate while some others had a cup of Aztec Hot Chocolate, which was basically a cup of melted chocolate served like hot Cocoa. On my way home I got adventurous and rode a moped taxi home and got a great video of the ride. It was wild!

DOMINGO
I am glad to say I have made it through my second week in Cuba! I am in good spirits because I am learning about myself and of course, this country. I thought that my reactions so far would be much different than they have been. For starters, I am not homesick, at least not yet. A lot of the other kids have been, but for some reason, so far I have been ok. I have also been able to think a lot more than usual. Being in a place that is so serene allows me all this extra time to think about things like never before and that's so relieving to me.

I tried to have some fun last night and went out to a dance club with some other girls. First club I have gone to since I been here, and it was ok. They played mainly Salsa and Reggatone and I eventually got pretty tired of it, but like I said I am in Cuba so I made the best of it and have fun dancing with locals. We met a few more people after and talked for a while letting them practice their English and we practiced our Spanish.

Today I didn't do much but read for class and walk around for a bit. I did lay out on the balcony with some others in the sun while I did some reason and that was really nice. The internet has been down for several days so I haven't been able to talk to anyone or check email. Other than that, I have just been thinking. I am really liking this place more and more with each day that passes and I learn a little more of the culture. I think what I love the most is that living life simply isn't as bad as I thought. In 2 weeks of being in Cuba I have spent a total of $65, and that includes daily lunches, movies, museums, and concerts. I am not acting like a tourist and going to all of the super sophisticated places, I am instead going to where the Cubans go, and learning what I can. Even with that said though, I have spent in 2 weeks what they make in 3 months. I know compared to the other students I am doing pretty good, but I want to push myself past that and think in 'Cuban'. I think that this week my goal will be to spend even less. I will give myself $25 for this week and let's see how far I get. I'm sure this will be entertaining to keep track of. Tonight I am watching the Super Bowl. Since there are not snacks down here like at home, we ate pineapple and watermelon which is pretty unusual but refreshing at least.

Other than that, I have to finish reading for class and get ready for bed. Tomorrow I hope to walk to the Laundromat to shrink my clothes back to their normal size in the dryer since its only 14pesos per load. But if I don't make it I am going to do some more laundry on the roof J I think its kind of refreshing to do it that way.

This week was much more hectic than the first, and was not all fun but I made the best of it. It was a look at real life. I had my ups and downs but I stayed optimistic and made it through. There were tears, and no wining- a major first for meJ. Even some of the "fun" activities were not what I had in mind, but I was in Cuba and experienced new things and that's what is most important to me at this point. I was able to suck it up and understand that things happen, and not always the way that you expect. But in the end, I had fun this week and I learned. Things are usually better when there is a bit of a struggle. In the words of my dad, "It'll build character"! And this week definitely has done its share of building for me. But I appreciate every moment of it because I feel like I am growing into myself little by little.

Well wish me luck as I enter week 3.

Love, Alyssa.


---
Alyssa's Post - 1 - 2 - 3 - 4 - 5
---




Comment & Contribute

If you would like to tell us more facts about this story, please click here to send the editors of SoulofSyracuse a separate email with the information you have.



Email your comments about this story to: Comments @ SoulOfSyracuse.com

Copyright ©2009 EspreeNet News Service All rights reserved. This material may not be published, broadcast, rewritten, or redistributed without permission.

Email your stories:
Comments@SoulOfSyracuse.com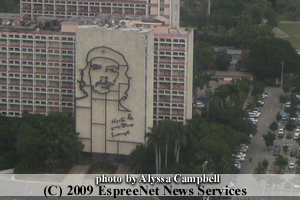 Since the fall of the US-backed dictatorship of Fulgencio Batista in 1959 Cuba has been a one-party state led by Pres Fidel Castro and - since February 2008 - by his annointed successor, younger brother Raul.
---
Full name: Republic of Cuba
Population: 11.3 million (UN 2008)
Capital: Havana
Major language: Spanish
Major religion: Christianity
Internet domain: .cu

---
Life expectancy:
76 years (men), 80 years (women) (UN)
Main exports:
Nickel, sugar, tobacco, shellfish, medical products, citrus, coffee
The Press
Granma - official Communist Party newspaper, online version in five languages including English