The Greatest Love of All: A Tribute To Sister Whitney
This poem is in honor of Sister Whitney Houston, written with respect to her life and the gift she shared with the world.


KAI SIMS
EspreeNet News Service

---



I dug down deep within my soul,
still trying to find the words
To explain the hole left in our hearts;
Gone too soon: is our precious Songbird
We're trying so hard to be strong in this time
To lean not towards our own understanding
It must have been hard to be
" Every Woman" in a world that's so demanding
Trying our best to be strong for the family
But our emotions won't give us the choice
We ask God why he would do this to us
Why would he silence That Voice!
With the perfection of a humming bird,
your songs came from the soul
Your physical voice, we will hear no more,
but your spirit will never grow old
For every little girl with a song in her heart;
your voice was the perfect Blueprint

God has other plans for you now
It was from him you were Heaven Sent
If we could sound half as good as you did,
then we would be a success
We know that your body and soul were weary
Now with God, you must take your rest
From that angel who first blessed us with her voice,
from New Hope Baptist so long ago
All you wanted was just to "Dance With Somebody",
while you sang to us "How Will I Know"
One thing that I know is one day we all must answer
When it's us God is ready to call
Our sister, our mother and our Homegirl, our Star!

Whitney, you truly are "The Greatest Love of All!"



May You Rest In Eternal Peace

Kathy (Kai) Sims


---

Reader Comments





Comment & Contribute

If you would like to tell us more facts about this story, please click here to send the editors of SoulofSyracuse a separate email with the information you have.



Email your comments about this story to: Comments @ SoulOfSyracuse.com

Copyright ©2012 EspreeNet News Service All rights reserved. This material may not be published, broadcast, rewritten, or redistributed without permission.

Email your stories:
Comments@SoulOfSyracuse.com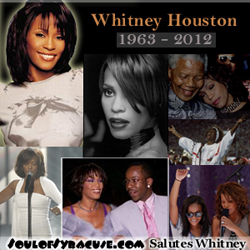 The Facts: Whitney Houston
Sunrise: 1963
Sunset: February 12th, 2012
170m records sold worldwide
11 US and four UK number one hits
Won six Grammys, including three for Best Female Pop Vocal Performance
Won 30 Billboard Awards
22 American Music Awards

I Will Always Love You is the best selling single by a female artist of all time
---
Charity & Good Works:

Whitney Houston was a staunch supporter of the fight against apartheid and refused to work with any agencies who did business with pre-democratic South Africa during her modelling days. She was one of the headline acts at the 1988 London concert to celebrate Mr Mandela's 70th birthday while he was still in prison, and in October 1994, met the iconic statesman once he had become president at a dinner hosted by Bill Clinton at the White House. On meeting Houston again in Johannesburg, Mr Mandela famously said he was there "merely to polish her shoes ... we love her so much.

Houston's mother is gospel singer Cissy Houston, she was cousin to singer Dionne Warwick as well as having Aretha Franklin as godmother.

Grew up in New Jersey, Houston began singing in church and then in the night clubs of New York, and was a model before being signed by Arista Records.

To this day, she holds the record for having the most consecutive chart-topping singles in the US - reaching number one seven times between 1985 and 1988.

The first of those, Saving All My Love For You.

Houston also enjoyed success acting in blockbuster films such as The Preacher's Wife, The Bodyguard and Waiting to Exhale

Sony Pictures announced that it would release the star's final film, Sparkle, which is loosely based on the story of The Supremes, in August.

The film also features Houston's final recordings - including a cover of the gospel standard His Eye Is On The Sparrow - which will be released on a soundtrack album over the summer.

Kelly Rowland paid tribute on Twitter, saying I am beyond heartbroken. Whitney Houston was undoubtedly one of the greatest singers and performers of all time and such a huge influence of me. She embraced me when I first started out with Destiny's Child, with love, with encouragement and with that powerhouse voice.

Quincy Jones, music producer: I am absolutely heartbroken at the news of Whitney's passing... I always regretted not having had the opportunity to work with her. She was a true original and a talent beyond compare. I will miss her terribly.

Singer Shelia E, "I'm Gonna Miss Her"




---