Reflections: This man called Michael
He was a human being and it was not my business to know what went on in his "private" (and I use that term very loosely) life. I believe that as a human being we owed him his privacy.


KAI SIMS
EspreeNet News Service

---

So anyway….here I am, sitting, thinking, pondering and trying to put into perspective this thing called life. For the past several days and for many more to come, our televisions, radios and computers will be inundated with the incredible life and tragic death of this man called Michael. Many among us have weighed in on this tragedy by sharing our thoughts, fond memories and even our painful tears. In fact we nearly shut down the World Wide Web as a result.

So, who was Michael Jackson really and what was it about him that left us with an insatiable appetite to always want more of him, even when he gave us everything that he had. Who was this man of mystery who was so intriguing, so dynamic and so phenomenal that his death temporarily distracted all of us from what we thought really mattered in life.

Well, when you have a nation of people from New York to New Zealand mourning your death you must be someone pretty special! When the story of your life and death takes precedence over world affairs as serious the threat of nuclear war to our nation, the ongoing violence in the Iran elections and the tragic death of an Angel (Rest in Peace Farrah Fawcett) AND when the President, a man who has made history in his own right, puts in a personal call and writes a personal letter to your family to express his condolences, you must be special indeed! So who was he? Legendary, Iconic, Genius….some have even gone as far as to call him KING! Weellll, since my inquisitive mind is always at work, my first instinct is to ask… King of what? Was he the King of Controversy, King of Loneliness, King of Heartache, King of Media scrutiny, the King of being misunderstood or the King of his own domain? Hmmmm, I wonder about that.

Me, first and foremost, I would like to recognize him as just a phenomenal human being whose life ended way too soon! That's it, no bells, no whistles, no marching band, no rockets blaring…He was a human being whose life, unfortunately was not his own. He was a man who happened to be, in my opinion, THE most talented entertainer that I have ever seen. He was a human being and it was not my business to know what went on in his "private" (and I use that term very loosely) life. I believe that as a human being we owed him his privacy. You'll have to excuse me but I'm a little put off by certain aspects of the media who feel they have always had the right to have access to his private life. I'm sure there are many who will disagree but I don't feel that we should have the right to have access to his 911 calls, what he looked like during the last minutes of his life or what he looked like while being wheeled around on a gurney wrapped in a white sheet! That's not my business nor should it be anyone elses. Some private matters should be left private! I understand that there are those of us who are truly hurting inside and are searching for understanding and closure during this most tragic of times. However, we must also remember that this man had a family who loved him more than we ever could. To them he was a man first and an entertainer second and we must remember that when we remember who he really was. He was a son, a father a brother and shame on the PARASITES among us who are using his death for their own personal gain!

Shame on those who will make a mockery of his life and allow the negative publicity overshadow the true Humanitarian that he was. According to the 2000 edition of the Guiness Book of world records, he broke the world record for the "Most Charities Supported by a Pop Star". He supported charitable organizations ranging from Aids to world hunger. According to the book, Michael Jackson has supported 39 charity organizations either with monetary donations through sponsorships of their projects or by participating in their silent auction. Unfortunately that kind of information doesn't sell tabloids!

In spite of all of his successes and failures, what I wonder most is was he happy? Was he healthy (Mentally/Physically or both)? What will become of his family? It is my prayer that somewhere in those 50 years he was able to find happiness even if it was for just a little while. My other question is what is the cost of fame? Many of us think we want it, but are we willing to endure the life he lived to achieve it? I wonder if he had to do it all over again, would he choose a different path? As I sit here surrounded by his legacy, wondering how to put a description of him into words, he appears before me AGAIN! This time as a "Smooth Criminal". I love that video! Hmmmm, Is he trying to tell me something? Well, I don't know about the criminal part of it. I, like millions of other people in the court of public opinion WAS NOT THERE…so I, like those same people aren't qualified to speak from a criminal perspective but I can tell you that he was SMOOOOTH indeed! I would be lying if I said I wasn't a fan because I was. I knew his songs, I studied his movement and my brother Karl and I were one mean Moonwalking team! I was a fan indeed.

However, I would also be lying if I said I was loyal. I'm ashamed to admit that there were many before and after me who were much more worthy of that title than I. You see I never bought and album, or a piece paraphanaila and it was my sister who treated me to his concert. However, I admired and respected him for the phenomenal Man that he was, but to say I was loyal would be both dishonest and disrespectful to his memory. Unfortunately, it took his passing for me to truly appreciate the phenomenal person he was in life. I'm constantly learning as I go. I wonder if he had any idea just how powerful he really was? I will say this: There was something about this man that every time I saw him I was awestruck and whatever it was I was doing had to be put aside until whatever he was doing was completed. That's just how "BAD" he really was! Although I was slightly younger than him, from the very beginning I was wise enough to know that this man had a talent, a presence and future that would surpass all human understanding. His legacy will exist far beyond this stratosphere and it forces me to think about the legacy that will be my own. What will I leave behind and what impact will it have on others. What was it about this man that creatures great and small longed to be near and did he have any idea just how many in the world were actually watching. There's no way that could even fathom just how big he was.

Strangely, through all of this, I haven't been able to cry or mourn or even understand this feeling that I have inside right now. I suspect that this whole thing just hasn't hit me yet. Numbness, Mortification, Confusion are none of the adjectives that come to mind. Instead it is a feeling of peace. I think I feel this way because in the back of my mind, I am comfortable believing he has found that same peace. Eureka! Maybe that's it! Hmmmm, how ironic is it that as comfortable as I am with the use of the English language, I haven't yet found the words to explain this feeling. Maybe some things aren't meant to be explained and we must do as Proverbs 3:5 suggests; 5 Trust in the LORD with all your heart and lean not on your own understanding;

Yeah! Maybe that's it. Maybe I can't put this feeling in to words because in this case words aren't necessary. Life is about making choices and I choose not to mourn his death but instead, I will celebrate his incredible life! Wow, what will his obituary read and who among us is fully equipped with the instrument to write it? How does one Eulogize a human being whose life experiences can't even be put in to words. Hmmmm, I wonder. It is my prayer that my God will bless him tremendously and that he will be granted the restful peace in his death that he was not able to find in his life. God loaned him to us as a gift for 50 years. During his short time here he gave us all of him. He forgave us when we were cruel, and angry and just plain selfish. He blessed us with his talent, his time and way more than his tenth and still we wanted more. I would imagine both his mind and his body were weary. I would like to believe that when he took his last breath he closed his eyes and was freed from the controversy that was called his life. It's time now to keep his life and his legacy close in our heart but to let his spirit fly free.

Peace be with you Brother Michael………….May you rest well indeed...…..

Kathy (SlyKai) Sims


---

Reader Comments

Great sentiments and you are correct about feeling his death so much. It represented our growing and maturing years and I think that is why his loss is felt so much.
Peace my sista.

Michelle M.



Comment & Contribute

If you would like to tell us more facts about this story, please click here to send the editors of SoulofSyracuse a separate email with the information you have.



Email your comments about this story to: Comments @ SoulOfSyracuse.com

Copyright ©2009 EspreeNet News Service All rights reserved. This material may not be published, broadcast, rewritten, or redistributed without permission.

Email your stories:
Comments@SoulOfSyracuse.com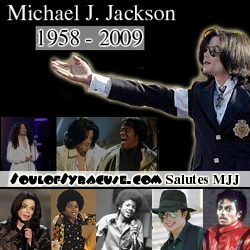 The Facts: Michael Jackson
Sunrise: August 29th, 1958
Sunset: June 25th, 2009
750+ Million Records Sold
$300+ Million to Charities
---
Charity & Good Works:

January 10, 1984: Michael visits the unit for burn victims at Brotman-Memorial Hospital in Los Angeles.

April 14, 1984: Michael equips a 19-bed-unit at Mount Senai New York Medical Center. This center is part of the T.J. Martell-Foundation for leukemia and cancer research.

July 5, 1984: During the Jackson's press conference at Tavern On The Green, Michael announces that his part of the earnings from the Victory Tour will be donated to three charitable organizations: The United Negro College Fund, Camp Good Times, and the T.J. Martell-Foundation.

Dec 13, 1984: Michael visits the Brotman Memorial Hospital, where he had been treated when he was burned very badly during the producing of a Pepsi commercial. He donates all the money he receives from Pepsi, $1.5 million, to the Michael Jackson Burn Center for Children.

Jan 28, 1985: Michael and 44 other artists meet to record "We Are The World", written by Michael and Lionel Ritchie. The proceeds of this record are donated to the starving people in Africa.

1986: Michael set up the "Michael Jackson UNCF Endowed Scholarship Fund". This $1.5 million fund is aimed towards students majoring in performance art and communications, with money given each year to students attending a UNCF member college or university.

Sept 13, 1987: Michael supports a campaign against racism. He supports efforts of the NAACP, to fight prejudices against black artists.

Oct 1987: At the end of his Bad Tour, Michael donates some personal items to the UNESCO for a charitable auction. The proceeds will be for the education of children in developing countries.

Feb 1, 1988: The Song "Man In the Mirror" enters the charts. The proceeds from the sales of this record goes to Camp Ronald McDonald for Good Times, a camp for children who suffer from cancer.

March 1, 1988: At a press conference held by his sponsor Pepsi, Michael presents a $600,000 check to the United Negro College Fund.

July 16, 1988: Before a concert at Wembley Stadium Michael meets the Prince of Wales and his wife Diana. He hands over a check of 150,000 pounds for the Prince's Trust, and a check of 100,000 pounds for the children's hospital at Great Ormond Street.

Aug 29, 1988: At his 30th birthday Michael performs a concert in Leeds, England for the English charity-organization "Give For Life". The goal of this organization is the immunization of children. Michael presents a check for 65,000 pounds.

Jan 1989: The proceeds of one of Michael's shows in Los Angeles are donated to Childhelp USA, the biggest charity-organization against child-abuse. In appreciation of the contributions of Michael, Childhelp of Southern California is founding the "Michael Jackson International Institute for Research On Child Abuse".

Jan 10, 1989: The Bad Tour comes to an end. Under-privileged children are donated tickets for each concert and Michael donates money to hospitals, orphanages and charity-organizations.

Feb 7, 1989: Michael visits the Cleveland Elementary School in Stockton, California. Some weeks earlier a 25-year-old man had fired at the school's playground. 5 children had been killed and 39 had been wounded.

Dec 1991: Michael's office MJJ Productions treats needy families in Los Angeles with more than 200 turkey dinners.

Feb 1992: Within 11 days Michael covers 30,000 miles in Africa, to visit hospitals, orphanages, schools, churches, and institutions for mentally handicapped children.

June 23, 1992: At a press conference in London, Michael makes an announcement about his Heal The World Foundation.

July 31, 1992: On the Eve of his second concert at Wembley Stadium, Michael presents Prince Charles with a check of 200,000 pounds for the Prince's Trust.

Sept 1992: Michael donated 1 million pesetas to charity headed by the Queen of Spain.

Nov 24, 1992: At Kennedy Airport in New York, Michael supervises the loading of 43 tons of medication, blankets, and winter clothes destined for Sarajevo. The Heal The World Foundation collaborates with AmeriCares to bring resources totaling $2.1 million to Sarajevo. They will be allocated under the supervision of the United Nations.

May 5, 1993: Former President Jimmy Carter and Michael, who are chairmen of the "Heal Our Children/Heal The World" initiative, are in Atlanta to promote their "Atlanta Project Immunization Drive".

June 1993: Michael has announced that he will donate $1.25 million for children who have suffered from the riots in Los Angeles.

Feb 22, 1994: "The Jackson Family Honors" is televised. The earnings of the show are given to their own newly formed charity, "Family Caring for Families".

Jan 25, 1997: Michael waved his personal fee for his Bombay appearance and donated $1.1 million to a local charity helping to educate children living in slums.

September 4, 1999: Michael presented Nelson Mandela with a check for 1,000,000 South African rand for the "Nelson Mandela Children's Fund."

April 25, 2002: Michael Jackson performed at a fundraiser for the Democratic National Committee at the Apollo Theater in Harlem helping to raise nearly $3 million dollars towards voter registration.

May 1, 1992: President George Bush presents Michael with the "Point of Light" award for his continuing support of deprived children.
---